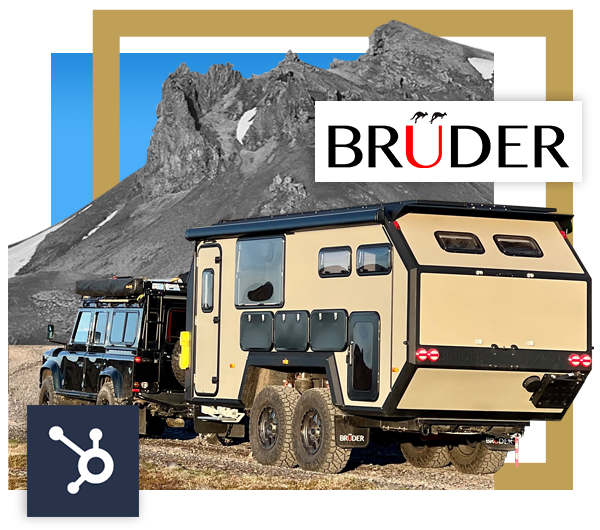 CASE STUDY : Bruder
Driving efficiency to power a global customer experience
Streamlining their processes with HubSpot
Bruder values global exploration, their luxury adventure caravans and expedition trailers are taking the lifestyle industry by storm.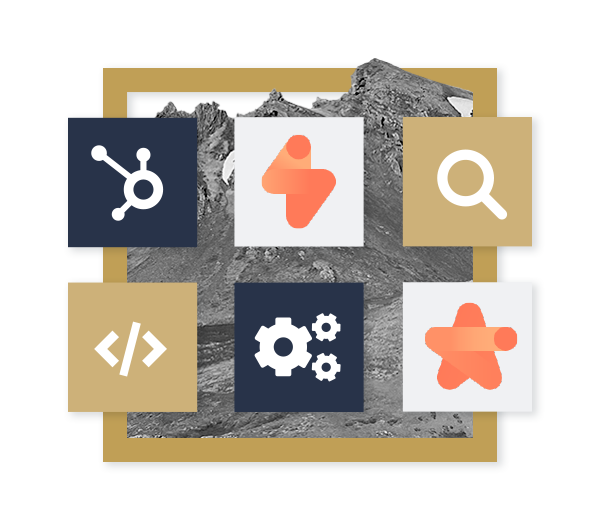 Discovery Workshop
HubSpot Onboarding
HubSpot CRM
Sales Hub
Marketing Hub
Custom Technology Development
Automation Workflows

Website Integration

Data Migration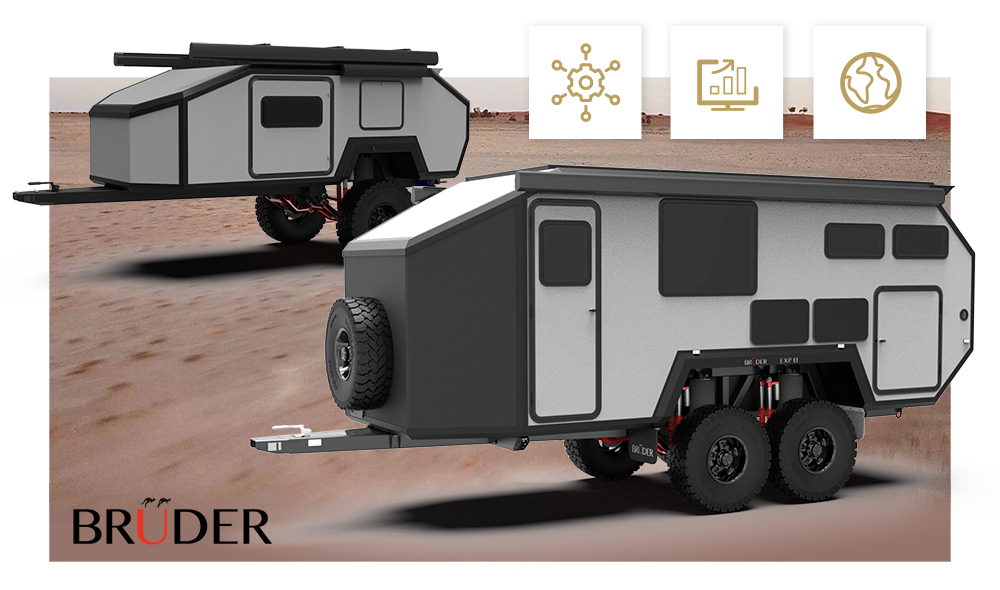 AUSTRALIAN MADE LUXURY TRAILERS
About Bruder
Bruder is a high-end global adventure trailer manufacturer for the lifestyle space. Bruder's expedition trailers and caravans are designed to help adventurers escape in style all around the world.
Bruder wanted to build a strong foundation for their global business to operate on, automate their sales processes and elevate their go-to market strategy.

Bruder wanted to improve their customer experience and ignite key growth areas by using HubSpot's CRM, Sales and Marketing Hubs.

The goal was to maximise efficiency with internal workflows by building a powerful automation strategy.

Accelerate the customer experience to have less friction and drive the forces that propel revenue growth.
The Challenge
Enable Bruder to utilise their database to reach and engage their customers with a streamlined approach.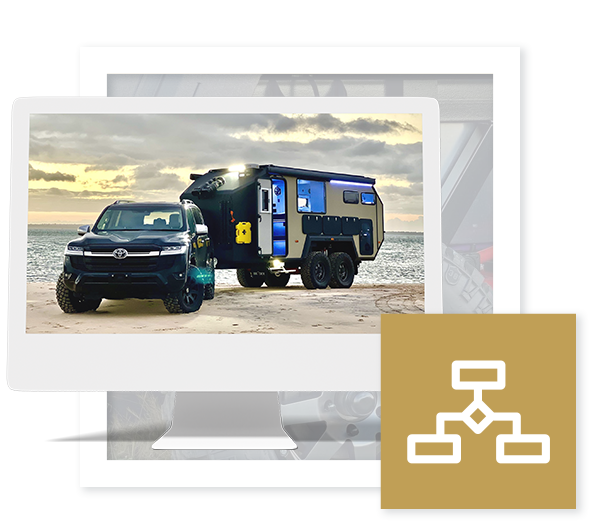 INEFFICIENT FOR SCALABILITY
Bruder wanted to expand their capabilities with additional functionality and streamline their internal processes. They needed a CRM that would provide automation, help nurture their customers and connect each of their external platforms to a single source of truth.
Bruder was managing their systems by manually taking care of tasks, which added pressure on internal resources.
Bruder had an extensive database, yet they couldn't reach their customers and manage a personalised experience at scale with their current systems. Bruder wanted to implement their go-to-market strategy with the right software to support them.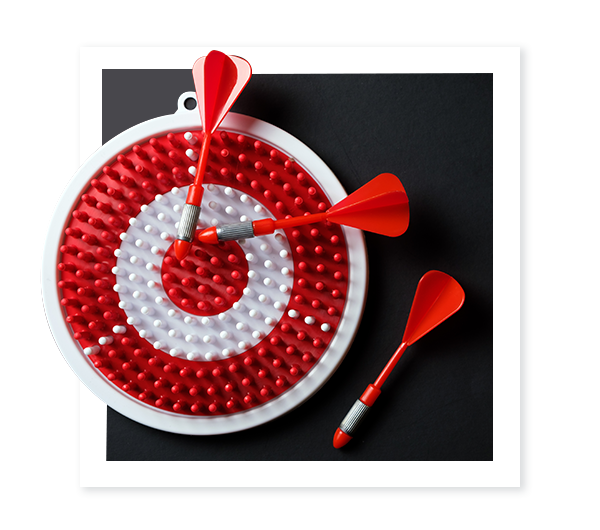 MISSED OPPORTUNITIES
Previous processes were time consuming
Bruder's business development teams were finding it difficult to manage tasks and build strong client relationships at scale. Their processes were time-consuming to manage and most of their time was focused on admin.
Bruder was eager to get this project completed in a short timeframe to ensure they could make the most of the new opportunities this solution would provide and get back to focusing on delivering their ultimate high-end adventure trailers and caravans to users all around the world.
Bruder was looking for a solution that brought value to their current database.


They wanted software that excelled in functionality and would continue to expand their capabilities as they grow.


A partner that understood their needs and would meet the project deliverables.


Looking for a smooth transition into HubSpot's software, with a team that is dedicated to driving success.


Wanted HubSpot onboarding specialists who were professional, reliable and focused on setting up Bruder's team to succeed post-project completion.


They needed a team who provided consistency and was experienced in building custom technology solutions to match their unique processes and systems.


Wanted a team who specialises in improving efficiency, minimising risk and maximising performance.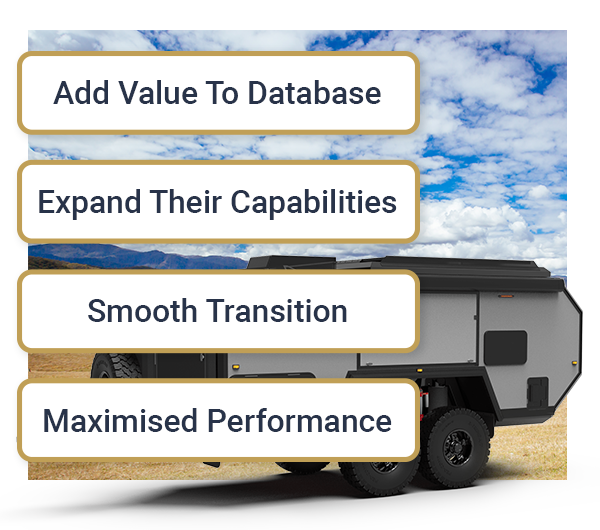 Our Solution
To accelerate Bruder's processes with automation,
increase internal efficiency & enable a seamless customer journey.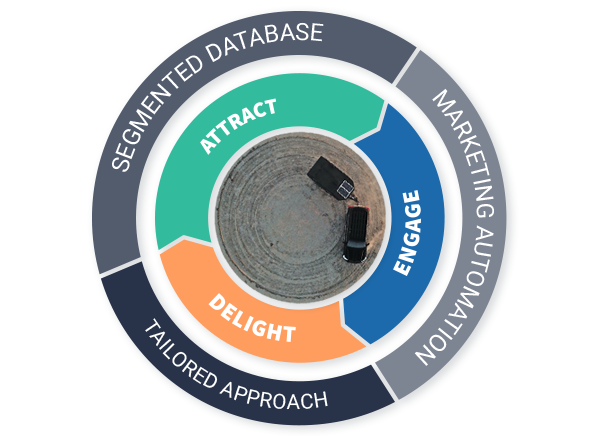 The Objective
Get Bruder's internal teams operating as smoothly as their luxury adventure trailers and caravans.
Drive key automation strategies that are personalised for the end-user experience.
Increase the value of their database with actionable insights.
Build a customer experience that thrives worldwide.
Discovery Workshop → HubSpot Onboarding → Custom Tech Development → Set Up For Success
step 01
Discovery Workshop
We conducted a discovery workshop, which allowed Bruder to express their challenges and for us to develop a new plan moving forward. We selected Hubspot's CRM, Sales Hub and Marketing Hub as it was the best solution for their needs. Hubspot would provide the functionality Bruder needed with many customisable options. Helping them to drive customer engagement with automated strategies.
We also identified the necessary system integrations and additional custom technology development Bruder needed to streamline their tech stack.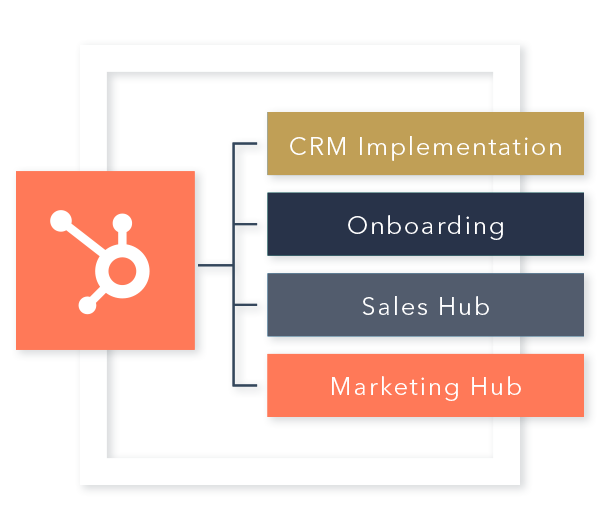 step 02
HubSpot Onboarding
HubSpot CRM Implementation, HubSpot Onboarding, Sales Hub and Marketing Hub.
We executed our standard best practices and technical set-up of HubSpot's CRM. This included maximising the value of HubSpot's features and adding custom adjustments to suit Bruder's needs.
HubSpot provides a unified system that helps build tailored processes and business operations. Bruder needed to be able to customise their platforms to build a lead nurturing strategy and market to their extensive database at scale. HubSpot's automation tools enable prospects to be nurtured and pushed through the sales funnel with a streamlined approach.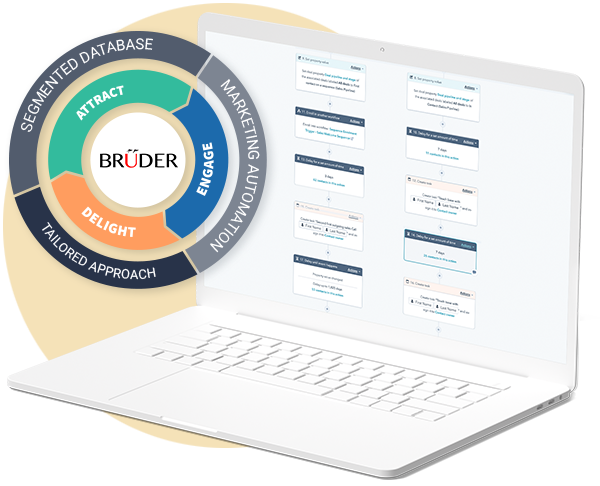 step 03
Custom Technology Development
We implemented a customised automated customer nurturing process to use in Sales Hub. This increased the forces that propelled their flywheel to generate more revenue in their sales pipeline.
We developed 17 automated workflows to increase efficiency, save time and maximise resources. Bruder had a step-by-step marketing and sales strategy they wanted to implement. We advanced its capabilities by using automation and custom technology development. We also eliminated any friction points along the way.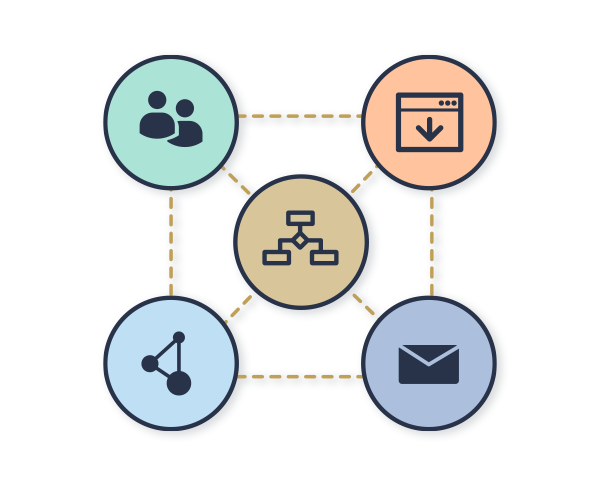 5 Examples:
Automated Workflows
Created In HubSpot:
1.

Email Campaigns with 'if this, if that' branches

2.

Long-term nurturing and follow-up reminders

3.

Daily tasks and admin processes

4.

Lead allocation

5.

Marketing material and content downloads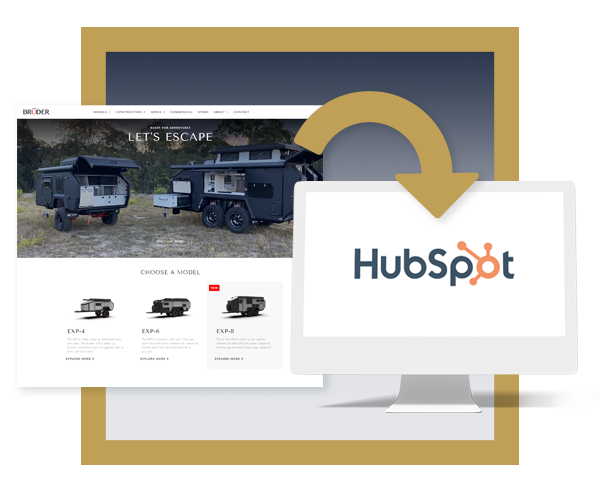 Quality assurance & Quality Control
Minimising Risk
We eliminated time-consuming tasks and ensured the sales process was now consistent across the business development team. This streamlined their processes to be much more efficient and sped up the experience for their customers.
We integrated Bruder's WordPress website and data into HubSpot. To ensure a smooth transition between platforms, we implemented custom technology solutions to ensure the data migrated seamlessly. Minimising risk at all stages through quality assurance and quality control.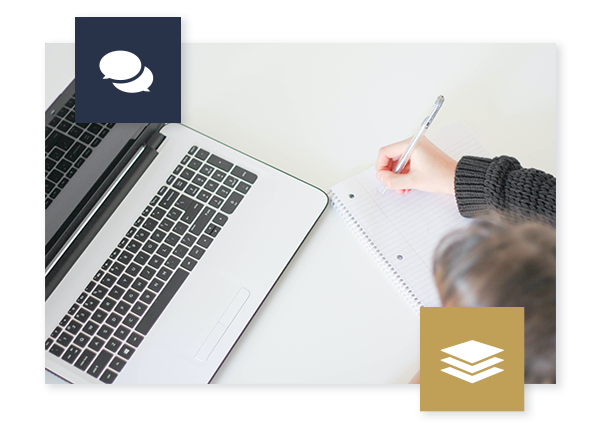 step 04
Set Up For Success
We conducted training sessions to ensure the new systems being implemented would be successfully adopted by Bruder's team. Setting Bruder up to succeed after finishing this project.
We ensured the new systems were running smoothly and the new processes would help Bruder streamline their daily tasks, engage and delight their customers.
45,000
Leads enrolled into
new CRM
200%
This project played a pivotal role in achieving a 200% increase in revenue in the current year

50%
Time saved on
manual tasks
The Outcome
Bruder was already a force to be reckoned with.
Now, with their new processes there is no stopping them.
TIME & RESOURCES SAVED
50% REDUCTION
END-USER EXPERIENCE
20,000 EMAILS SENT
PHONE CALLS
INCREASED BY 1060%
ADDED TO CRM
45,000 LEADS
Exceeded Bruder's Expectations
Modern Visual came highly recommended and exceeded the expectation we had set for them.
Modern Visual came highly recommended and exceeded the expectation we had set for them. They took a complex challenge and request from a global based sales business, and integrated this into a high end platform that delivered results.

If you want to get get the most from Hubspot, and work with a highly intelligent team, stop looking now and call Luke and the Team at Modern Visual.

Kye Bessant deserves a special mention for going above and beyond what would normally be expected to achieve and deliver an outstanding system for our business.
Jonathan Clark-Monks
Business Development Manager / BruderX
I had known about BruderX for some time due to interests in their products and when the opportunity to work with them came across our desk, I jumped at the opportunity. Jonathan and the team are leaders in their space and were integral in producing the outcomes for their organisation. Our team thoroughly enjoyed the partnership through out the project and we would love the opportunity to work with Bruder again in the future (or own one of their products).
Luke Trewin
Director / Modern Visual
We'd love to learn more about your challenges & goals.