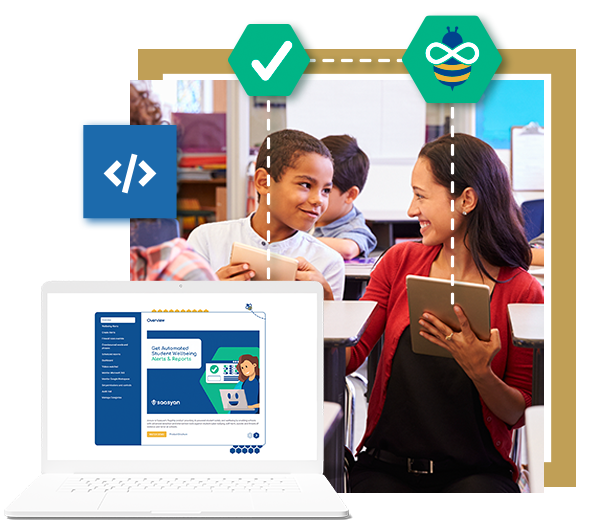 CASE STUDY : SAASYAN
Empowering Students
To Learn Something New
In A Safe Way, Everyday.
Saasyan provides advanced Ai-powered technology to help Schools, Teachers and Students stay productive and learn in a safe environment online.
Saasyan's #SafeVillage is a global community that ignites a passion for protecting students' welfare and encourages safe learning for everyone. Saasyan are industry leaders who enable student safety and wellbeing of over 400,000 students across 600 schools throughout Australia.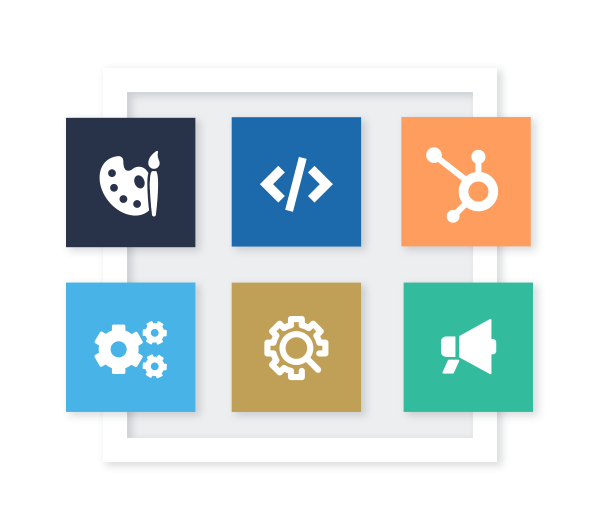 Rebranding
Web Development
UX Design
Hub DB
HubSpot CRM Implementation
HubSpot Onboarding
Sale Hub
Marketing Hub
Service Hub
CMS Professional
Discovery Workshop
Graphic Design
The Challenge
Transform Saasyan's Brand and Online Presence,
Expand to a Global Market and Increase Internal Efficiency
To Enable A Seamless Customer Journey.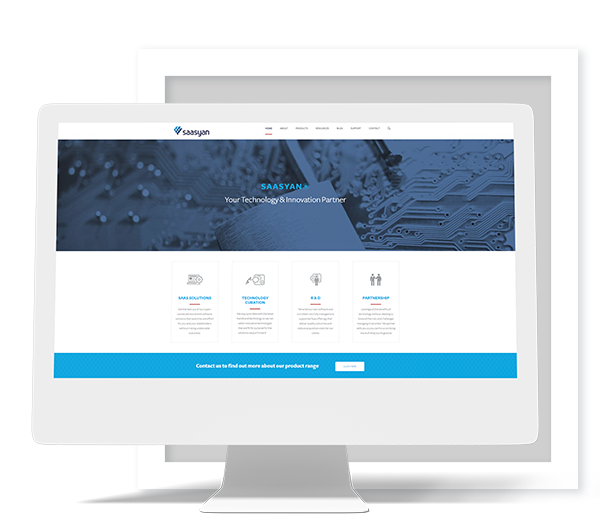 Bring Sassyan's New Vision to Life
The challenge was to undergo a branding transformation and align Saasyan's products to serve a global market. Saasyan were having trouble connecting their products to the right audience and communicating the right messaging.
Before the appointment of Sidney Minassian (CEO), Saasyan had a small online presence, and was portrayed as an advanced tech company with IT branding.

Saasyan's new vision entailed expanding their reach and pivoting the business to be easily approachable for schools, teachers and students. Promoting new key messaging that embodied student safety, cared for student wellbeing and online education.
Image: Saasyan's old website & brand.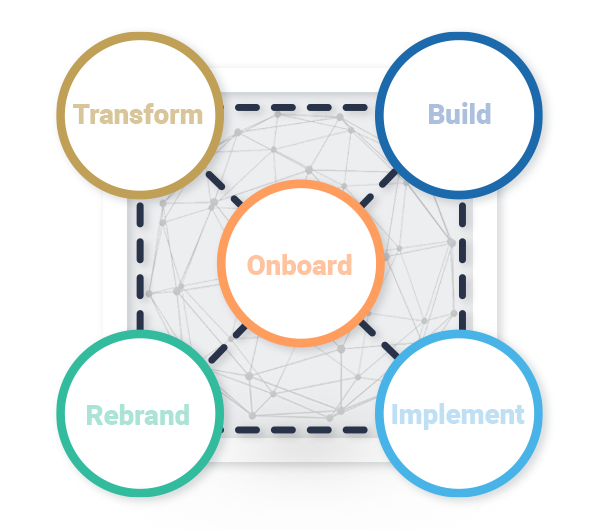 The Objective
Design and develop a custom made website that would accelerate growth, build a community of like-minded people, provide resources, and ignite a delightful customer experience. And, unify internal operations to remove friction, accelerate growth and improve efficiency.
Our Goals:
Transform Saasyan's Brand to suit their ideal audience
and align key messaging
Build a unique customer experience and
implement a CRM
Ignite an online platform that serves a global community
Unify all branding assets
Enable each touch point along the customer journey to be on brand
The Solution
Our approach was to give Saasyan a complete digital overhaul and implement advanced tools to propel their growth strategies.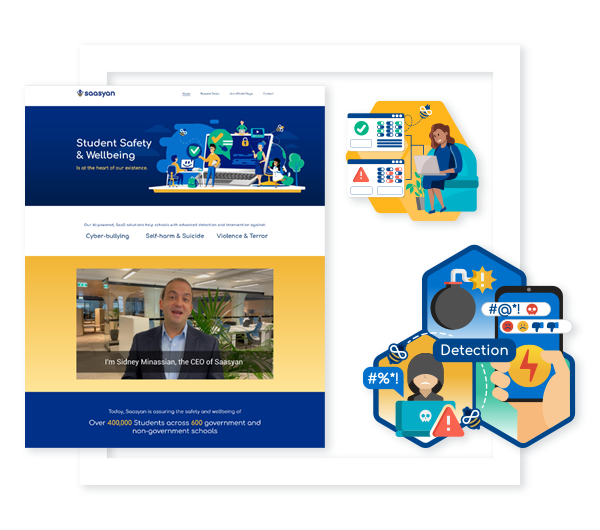 step 01
Brand overhaul
Considering Saasyan's previous website was struggling to deliver key messaging, we quickly implemented a temporary website to have an immediate positive impact on their audience.
We developed a full branding kit to visually represent and unify Saasyan's new mission and vision statements. Ensuring to communicate Saasyan's values at every touchpoint, with a design that resonated with Saasyans audience (Teachers, Schools, Parents).
We needed to combine their professional high tech solutions for children's online safety, with the needs of their consumers. Ensuring Saasyan's new website would convert more prospects and encourage a like-minded community to grow.
Saasyan's New Logo
Including New Branding Assets
The Bee was chosen as it represents many of Saasyan's values and aligns with their key messaging. Helping to connect with students, schools and parents. The logo is modern, unique and on-brand, without being too 'techy'.
The Infinity symbol used for the wings of the Bee represents Saasyan's continuous strive for student safety and online security. Whilst unifying symbolic representation of education and community.
For Saasyan's new brand roll-out & digital marketing, we created a large suite of custom digital illustrations highlighting the #safevillage message and the key community members involved in online learning and student safety. These custom graphics were then integrated into the new wesbite pages, and all HubSpot digital marketing collateral, enforcing a consistent brand presence.
Image: A selection of custom graphics created for the new Saasyan brand.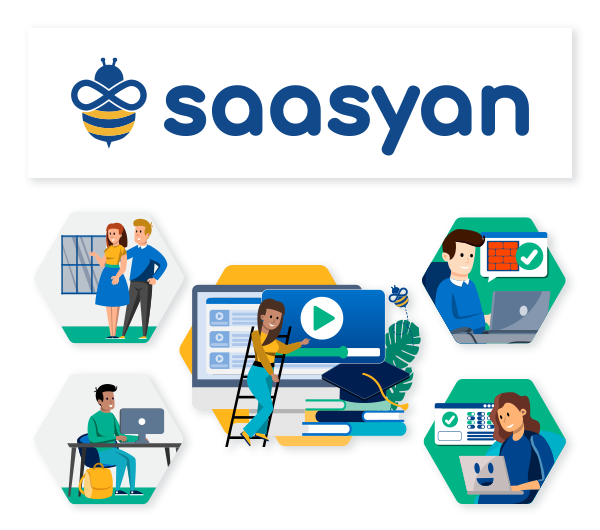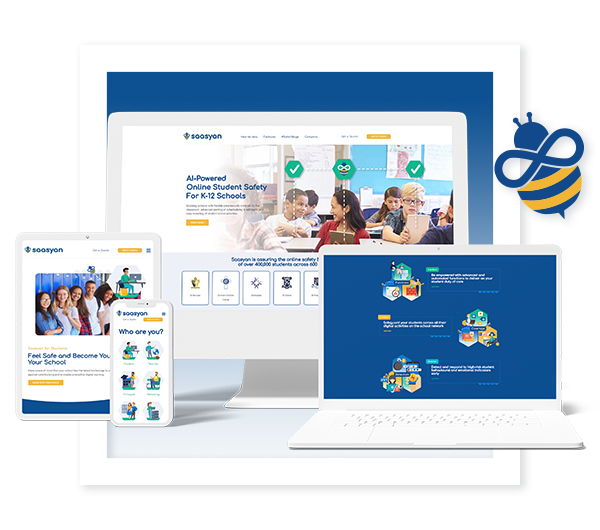 step 02
Marketing Assets
We created a premium HubSpot CMS website with HubDB, that was easy to navigate and highlighted Saasyan's #SafeVillage community as a focal point. We achieved this with custom design and by utilising the new branding we had created. We developed an online experience that advanced their growth strategies and aligned their customer journey.
We also created additional marketing assets for Saasyan, to ensure consistent branding and messaging was being communicated to their audience. Including: Email Templates, a Branding Booklet and Imagery.
Image: Saasyan's new HubSpot UX website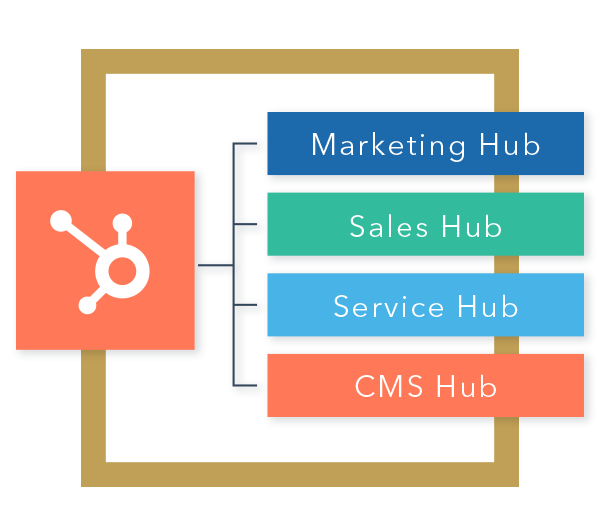 step 03
Implementing HubSpot's CRM Suite
HubSpot CRM Implementation & Onboarding
Marketing Hub, Sales Hub, Service Hub and CMS Hub.
To improve Saasyan's internal operations and unify their customer journey, we implemented HubSpot's CRM. This included the onboarding of Sales Hub, Marketing Hub, Service Hub and CMS Professional.

This embodied Saasyan to continue growing their community and implement ongoing changes as they move forward with their new strategy. Enabling them to have a sustainable method for growth and create a seamless customer experience.
AMPLIFIED TECH STACK TO INCREASE CONVERSIONS
MAXIMISED REVENUE OPERATIONS POTENTIAL
HubSpot referred me to Modern Visual who I evaluated against 3 other companies. I had a good feeling about them during the sales process, they were upfront, collaborative and high-energy.
I'm very happy with the Modern Visual team, they ran a great process with our new identity and design team listened, challenged and responded - we love our new brand identity and website. We are also very happy with Hubspot and we are using lots of its features.
Sidney Minassian
CEO / Saasyan
Sid and his team were an absolute pleasure to work with. The team at Modern Visual really look up to Sid as a leader in his industry and we couldn't have ended up with the result that we did without his input and effort.
Luke Trewin
Director / Modern Visual
We'd love to learn more about your challenges & goals.